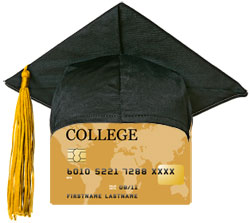 How a credit card can help you build your credit
Every college student should sign up for a credit card.
First, what you need to do is compare all credit card offers given to students to determine which credit card is good for you.

It is extremely important that you learn how to manage your account if you do apply for a credit card.

If you are not responsible you could be one of the people who end up in credit card debt.

Learn to manage and budget your account.
Rewards Credit Cards for Students
The importance of building a credit history for young people cannot be denied. A great way to get them started is with credit cards meant for students. With a special credit card for students, a young person can not only get started with building his credit history, he can also learn the important lessons of money management.
Here are some of the great rewards credit cards for students.
Discover It For Students
5% rotating categories cash back offer, it is a card that has few competitors

A

utomatically get your FICO score every month, which is a great way of knowing how good your credit score is.

It's a perfect card for the student community which is the reason why it has so many takers.

G

reat customer service that Discover is known for, students can get access to all the help they need to use their cards in the correct way.

Also, there are some 'forgiveness' tones visible too. For example, when you make a late payment, your APR will not be raised. This is something that cannot be said for too many credit cards and it is a really appreciable feature.

Another wonderful thing about this card is that when you make your first late payment, you won't be charged a late fee! This card has a number of great features which puts students at an advantage.
When applying for credit you will be categorized into one of the following four categories:

• Superstar Credit (rating> 780)
This rating takes into account all kinds of loans from study to car to mortgage and credit card loans. This rating is hard to achieve at a young age as it requires 5 to 10 years of on time payments. Credit cards from premier banks like Chase, and Citi are reserved for people in this group. This will be difficult for a student because this will most likely be your first card.
• Good Credit (rating> 700)
You will be approved for most of the credit cards if you have a credit rating over 700. This implies that you are using your credit card for at least two years and have paid your debts on time without having too many accounts. 0% intro APRs card like Discover it or the low interest credit card like Capital One Venture falls under this category. About 20-30% of students will have a credit score in this range.
• Average Credit (rating 600 to 700)
You credit card score falling within this bracket will prevent you from applying for many prime credit cards. Your credit rating falls under this bracket when you have just started using your card and missed one or two payments. However, Capital one  has some low interest credit card to satisfy your need. Most students will fall in this category and will most likely be eligible for a Capital One Student Credit Card.
• Poor Credit (rating <600)
You need to take special assistance to get approved for credit cards if your credit rating falls under this category. Credit rating below 600 implies that you are missing your payments overtime or you have incurred a huge debt. If you have poor credit then a secured credit card might be the best option for you as a student.