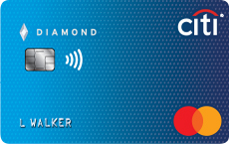 Help build your credit history by using your card responsibly.  Apply and get approved for the Citi® Secured Mastercard®.
Whether you're looking to establish or improve your credit, the Citi® Secured Mastercard® can help you get there. Simply make everyday purchases and pay your bill on time. Best of all, there's no annual fee*. Take the first step toward achieving your financial goals and apply for Citi's secured credit card today.
Citi® Secured Mastercard®
To receive a Citi® Secured Mastercard®, you must meet our credit qualification criteria, which includes a review of your income and your debt. If approved, a security deposit is required for the amount of your credit limit, between $200 – $2,500.
Program Details
Citi® Secured Mastercard® is an option for customers with little or no credit history and can help you build your credit when used responsibly.
Unlike a debit card, Citi® Secured Mastercard® is a real credit card that helps build your credit history with monthly reporting to all 3 major credit bureaus.
Once available, you will also have free access to your FICO score online. Tracking your score is a great first step to managing your credit history and taking control of your financial future.